We're in this for you.
When we agree to work with you, it means we've undertaken a rigorous and thorough process for understanding you, your business and the goals you're trying to achieve. We've assembled the right team with the knowledge and skills to maximize your deal and we're committed to getting it done.
Client Testimonial
Don Riggs
Founder, Future Telecom
"The one piece of advice that I would give out to a potential business seller is just relax. These guys are professionals for you here. You can continue to work, move forward, do what you do best. It doesn't have to be a burden – it can be a journey – a fun journey."
Awards & Accolades
Allegiance Capital is widely recognized for attaining the highest levels of achievement amongst its peers within the finance and M&A communities. Over the years, we have worked diligently to build our platform and staff it with exceptional talent to execute complex M&A transactions including sell-side mandates, financings, and buy-side acquisitions. Our awards are a testament to the successes we have achieved for our clients.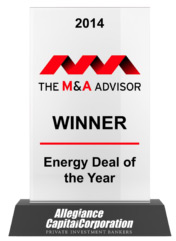 Our Credentials
The skills and insights of our team members are truly multi-dimensional, spanning the professions of business, finance/economics, investment banking, engineering, technology, real estate, law, manufacturing, marketing and more. In addition to their accumulated experience, many have earned important accreditations and certifications in a wide range of specialties.